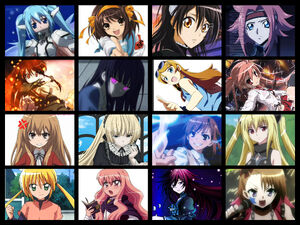 This page was created on January 12, 2012 by Admin Asuna Yuuki. It was later handed over to two of her co-admins Ai Enma and Shana Strauss.
About us:
Edit
This is the wiki page of the facebook fanpage Tsundere Girls Rules http://www.facebook.com/TsundereGirlsRules Please do not change any information without the creator's permission
We celebrate Tsundere girls!
Tsundere saimoe
Edit
The tsundere girls rules is also the admin for the Tsundere saimoe league.
Asuna Yuuki
Amulu.chi Menma
Fear Kubrick
Aki-pyon
Flame Haze Shana
Lotte
Tsunderella
Tsumiki Miniwa
Victorique De Blois
Yuri Nakamura
Nymph
Kirino Kousaka
Kyou Fujibayashi
Asuna Yuuki
Haruna
Dalian
Haqua du lot Herminium
Ayano Kannagi
Senjogahara Hitagi
Kasugano Sora
Kuroyukihime
Isurugi Mio
Tohsaka Rin
Makise Kurisu
Azusa Nakano
Mio Akiyama
Shimada Minami
Rin Natsume
Kagami Hiiragi
Ookami Ryouko
Takanashi Sora
Ibara Mayaka
Yozora Mikazuki
Sena Kashiwazaki
Kobato Hasegawa
Yuuko Kanoe
Amu Hinamori
Index Librorum Prohibitorum
Ririchiyo Shirakiin
Nana Aster Deviluke
Kallen Stadtfeld
Kannagi Miyabi
Kotegawa Yui
Kokonoe Rin
Sawachika Eri
Community content is available under
CC-BY-SA
unless otherwise noted.